How to Create a Task List
Task lists are used to separate and organize tasks based on their nature. For example, you might create a task list for marketing-related tasks and create a separate task list for event-related tasks.

To create a new task list, click on Tasks - Add Task List in the Dashboard.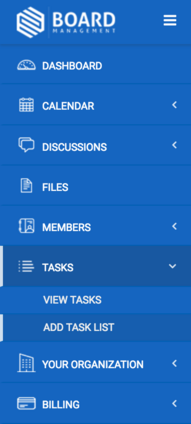 You will then be able to add all the details for your new task list, including Task List Name and Description.




Click Submit to save your task list. Once saved, you will see your task list on the Tasks page and be able to add specific items.